Automotive (AECQ Grade) Power Solutions
MPS automotive-grade solutions are precision engineered to perform under the most demanding environments. Each is rigorously qualified and put throuh a comprehensive 300-point application road test to ensure robustness in the face of harsh automotive conditions like load dump and cold crank.
Broad catalog of AEC-Q100 power management solutions
Over a quarter billion AEC-Q100 parts shipped with excellent quality record
Tuned to meet stringent EMI levels
Best-in-class high efficiency and power density, designed to operate above
Automotive application ready


Excellent thermal performance


Reduces space requirements


MPS offers a full catalog of high performance power management solutions for today's demanding automotive applications. These products are designed to tackle key automotive application challenges like load dump, cold crank, reduced EMI, and low power. Our catalog of AEC-Q100 qualified devices can offer a total system solution, from DC/DC converters and motor drivers to fully integrated USB chargers and LED drivers.
No Attributes Defined for this Category
Featured Auto Part
36V, 6A, Step-Down Converter with Programmable Frequency and Spread Spectrum Option, Dual USB Charging Ports Supporting DCP and Type-C 5V @ 3A DFP Mode
The MPQ4488 integrates a monolithic, step-down, switch-mode converter with two USB current-limit switches and charging port identification circuitry for each port. The MPQ4488 achieves 6A of output current with excellent load and line regulation over a wide input supply range.
The output of each USB switch is current-limited. Both USB ports support DCP schemes for battery charging specification (BC1.2), divider mode, 1.2V/1.2V mode, and USB Type-C 5V @ 3A DFP mode, eliminating the need for outside user interaction. Full protection features include hiccup current limiting, output over-voltage protection (OVP), and thermal shutdown. The MPQ4488 requires a minimal number of readily available, standard, external components and is available in a QFN-26 (5mmx5mm) package.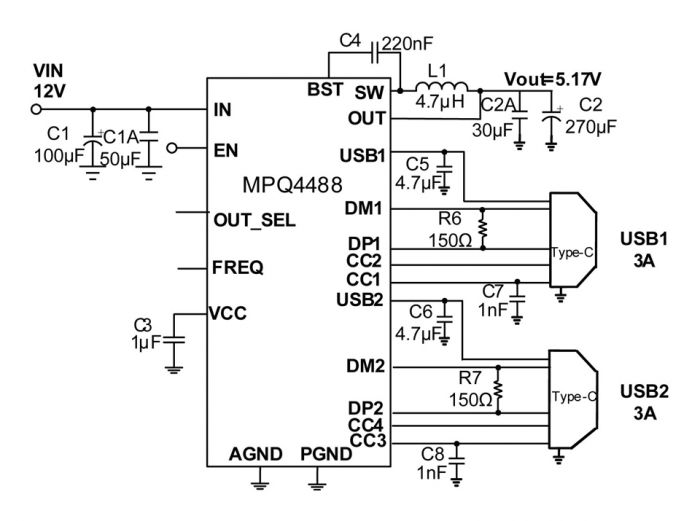 MPQ4488-AEC1

Automotive Reference Designs
VIEW ALL